In some places in California, gas prices are topping $6 a gallon. Across the nation, American pocketbooks are taking a hit, not only at the tank but in grocery stores and supermarkets, where inflation has led to steep increases in the prices of even basic goods.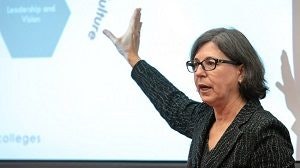 "We're reaching inflation levels of the 1980s. This is unprecedented, historically," says Dr. Tatiana Melguizo, a professor at the University of Southern California's Rossier School of Education who researches the economics of higher education. "What's going to happen is these students, [especially those] caring for small kids or families, they have to start putting [in] more working hours in order to barely make ends meet, and as a result they will engage less in college."
Melguizo says she worries rising inflation will compound the enrollment crisis that's been facing community colleges and higher education as a whole since the beginning of the pandemic. Community colleges have seen an enrollment dip of about 10% nationwide since March 2020. Scholars say that the best way to help students at times like this is to get creative and find ways to produce tangible, immediate relief for students while making meaningful, intentional efforts to communicate with regards to all the resources available to help them succeed.
"We are already a stretched sector. Even before COVID and the enrollment loss, we've been historically underfunded, and our students have been marginalized and neglected. Now you add COVID, you add inflation, and other pressures, and an already stretched sector is trying to absorb all of this," says Dr. Karen Stout, president of Achieving the Dream (ATD), a nonprofit network of over 300 community colleges dedicated to improving completion and removing achievement gaps.
Colleges in and outside the ATD network have come up with clever ways to provide aid to students to help them immediately. Metropolitan Community College in Kansas City, Mo., started offering free breakfast to all students at the end of February. Others, like Cuesta College in San Luis Obispo, Calif., offer gas gift cards to students. Community colleges in areas with public transit often offer free or discounted transit passes.
"Many colleges are looking for ways to reduce costs of textbooks, using open education resources, doing them strategically for all students at scale," says Stout. "You can make an immediate difference when you decide to offer free breakfast or zero cost textbooks."
In a study of community college students after COVID-19 was declared a global pandemic conducted by the Center for Community College Student Engagement (CCCSE) at the University of Texas at Austin found that 34% of community college students say the pandemic worsened their financial situation. That same research also found the majority of students were not aware of the many resources available to help them.
Looking for online options
As students continue to cope with rising gas prices and an increased need to work, they may be looking for online learning opportunities to continue, even while many campuses are fully back in person. While online classes can be a helpful tool, Melguizo says the success of that programming can depend on the institutional resources put toward online learning, like investing in faculty training for online pedagogies, functioning wireless connections and computers, and enough quiet space at home for students to study.
"Online is tricky. As we know, many of our community college students at the time of the pandemic were in very close quarters with multiple families sharing hotspots. It was almost impossible for a working mom to do her job, tend to her kids, and have internet [class]," says Melguizo. "That's the reality of community college students, so we have to really think how we can support them."
These experiences can be isolating, Melguizo says, making it harder for students to bond with their institution and such experiences can contribute to students feeling less of a sense of belonging, all factors that contribute to a student's retention.
Helping students develop a sense of connection online takes creativity and a purposeful effort to build relationships, says Dr. Linda Garcia, executive director of CCCSE.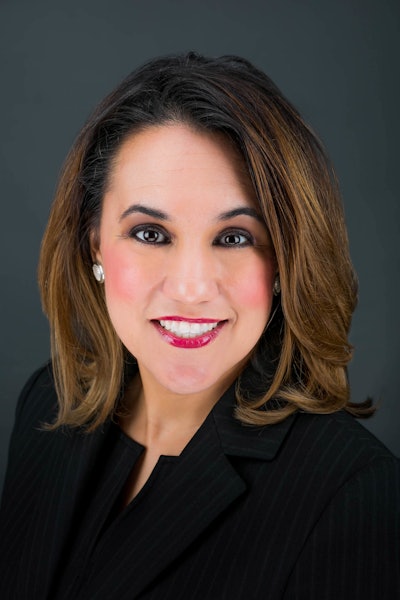 "When the student stops out, they've already been experiencing challenges," says Garcia. "But what if colleges were more intentional in identifying those challenges before the student leaves? Because, when they leave, it's hard to get them back."
Garcia says it is crucial for community college faculty and staff to reach out, right from the beginning, to ask important, personal questions "that have nothing to do with English courses or math courses — it's asking about the human."
"I want to know what your situation is, right now, and the challenges you're experiencing right now," says Garcia. "We're going to connect you to resources, we're not going to leave you alone, we'll help you get to the finish line."
Some professors have incorporated resources into homework assignments. Garcia gave an example: students must go to the tutoring lab to get help on an assignment and have the tutor sign the work.
"In past focus group work, we had students who said, 'I won't go to tutoring because that means I'm weak,'" says Garcia. "[The assignment example] made it mandatory, so now it's not intimidating, because of intentionality."
Addressing basic needs
When faculty members are intentional about the ways they incorporate the use of available resources, it can help alleviate the stigma around asking for help and can reveal barriers students might otherwise be reticent to share. While conducting a survey of students' basic needs, CCCSE researchers heard from multiple students that they would choose to forgo eating food on days they did not have class; they could only afford to eat a few times a week, so they would save their meals to coincide with school days to help them better focus during class.
Food pantries are designed to help students experiencing food insecurity, but those pantries often have limits on how many bags of food students can take per week, and they are limited by whether they receive enough donations. Students sometimes used pantry food for their children, leaving none for themselves.
"Students come to [college to] be successful, they don't come to fail," says Garcia. "But there's things happening beyond the classroom that prevent that success."
In some states, companies like Target are paying workers up to $24 an hour, which makes the choice to choose college over work that much harder for a student to make, especially when students are going hungry.
"We're in this critical time of not just higher inflation but still deep labor shortages. I think the inflation piece will force more community college students to choose between better paying jobs and education," says Stout.
Melguizo says community colleges must work even harder to demonstrate the additional earning potential college credentials bring. "The students are overwhelmed, surviving, trying to stay afloat. If we lose them and don't do something right now, students aren't going to come back," says Melguizo. "They will work more hours and start thinking they don't need that degree. We need to work with these students and their families to make them aware of the economic benefits of staying and working on [a degree] that will enrich their lives and give them a ticket to middle-class status. Otherwise, in the long term, it's millions of dollars these students are losing in terms of benefits over a lifetime."
This is all the more reason for community colleges to strengthen and deepen their relationships with their students, says Garcia.
"Relationships matter, intentionality matters, making sure that engagement is inescapable," says Garcia. "That's what will help students get to the finish line."
This article originally appeared in the March 31, 2022 edition of Diverse.