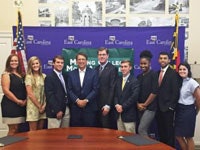 GREENVILLE, N.C. — Gov. Pat McCrory and Democratic gubernatorial challenger Roy Cooper came to the same city to discuss the price of college in North Carolina.
Cooper and McCrory visited Greenville on Tuesday afternoon. Multiple media outlets reported McCrory was at East Carolina University talking to students and ECU's chancellor. The attorney general met at a cafe with current and former students from ECU and Pitt Community College.
McCrory talked about portions of the budget he signed that freezes undergraduate in-state tuition rates for students when they enter school each fall and lowers and caps undergraduate tuition rates at three campuses in fall 2018.
Cooper says the state could shift money from corporate tax breaks to college affordability programs. He also wants to lower student debt and make loan details easier to understand.