As the cost of college tuition has increased dramatically in recent years, so has the cost of childcare. Paying for both at the same time can be a real challenge for the approximately 4.8 million students raising children as they pursue a degree.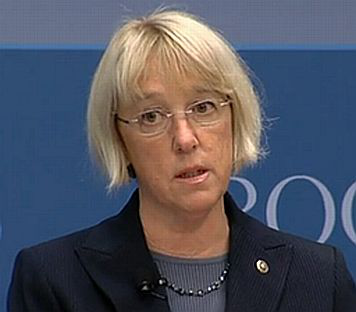 Legislation reintroduced in the Senate on Tuesday, the Child Care Access Means Parents in Schools (CCAMPIS) Reauthorization Act, would expand an existing federal program geared at helping low-income parents pay for childcare while in college. CCAMPIS provides grants to schools, which in turn support childcare services for thousands of student parents who qualify for Pell grants. The program reaches nearly 5,000 students each year.
"As the costs of college and child care continue to climb, too many students and families are struggling to make ends meet," said Senator Patty Murray (D-Wash.), one of five senators who reintroduced the bill in the Senate on Tuesday.
Representatives Katherine Clark (D-Mass.) and Don Young (D-Alaska) reintroduced similar legislation in the House last week.
The Trump administration proposed cutting CCAMPIS earlier this year in a move to trim education-related spending. Currently, CCAMPIS is funded at $15 million.
Under the CCAMPIS Reauthorization Act, funding would increase to $67 million permanently each year, expanding the program's reach and impact. It would also require the Department of Education to strengthen its oversight and data collection over the program.
"While each student is different, having better records would allow us to know how CCAMPIS is impacting the growing nontraditional student-parent population and to translate the positive experiences of local program administrators into a national conversation on how to scale up best practices," Reid Setzer, government affairs director at Young Invincibles, one of several groups advocating for the expansion of CCAMPIS, said in an email.
While individual schools and states have their own childcare support services for low-income parents, CCAMPIS is the sole federal program to fulfill the same mission.
"It's the only program that's federally funded that really is focused on providing childcare assistance for students in college," said Dreama Gentry, executive director of the Partners for Education at Berea College in Kentucky. "So it's the only program we have out there that's helping that population, which we know needs the assistance."
Partners for Education aims to improve educational outcomes for students in Appalachian Kentucky. Rural Kentucky has a high teen birth rate relative to other regions of the country, making academic support services for student parents in high school and college like CCAMPIS all the more important, Gentry said.
As Congress considers cutting CCAMPIS, it does so in an environment in which childcare resources on many college campuses are already stretched thin. More parents are attending college than in years past, at the same time that the number of on-campus childcare programs have seen a decline.
According to an Institute for Women's Policy Research (IWPR) analysis, the number of college students raising children has gone up by 30 percent since 2004 across the U.S. An earlier IWPR report found that the number of on-campus childcare centers have declined at community colleges and public four-year schools, going from 53 percent to 45 percent and 55 to 50 percent respectively between 2003-2004 and 2013-2014.
"We need policies and programs in place that will help rural kids and low-income students be successful," Gentry said. "Programs like CCAMPIS do that."
Staff writer Catherine Morris can be reached at cmorris@diverseeducation.com