Loyal Allen Jr. is on a mission to make Highline College more accessible to residents all across the Northwest coast, even though it's already considered to be one of the most diverse community colleges in the state of Washington.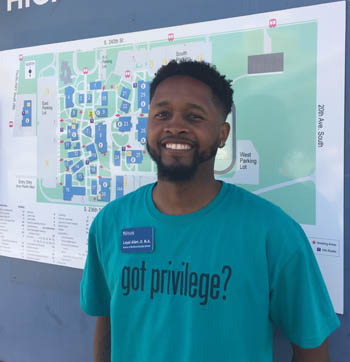 Allen is the director of Workforce Education Service, a department at Highline that offers funding and other support services to students who want to retrain for a new career, earn a high school diploma or study English as a Second Language.
For Allen, who attended Highline College as a track star and later earned his bachelor's degree from Seattle University, the opportunity to return to his alma mater to help students realize their dreams has been most gratifying.
"Students trust the rest of the staff and myself to work for them," says Allen. "It's an open door policy and (we) don't want to turn away any student, or any community member, without giving them something."
Over the years, Allen has become a visible cheerleader for the college, bringing Highline's resources to bear to help poor and working-class communities access education and workforce opportunities.
The issue is intensely personal for Allen, a first-generation college graduate.
He watched his mother slowly transition from a low-income job to stabilizing herself in the middle-class while working at COSTCO so that she could support his endeavors as a student-athlete.
After earning his undergraduate degree in social work at Seattle University, Allen joined the Workforce Education Service team at Highline, where he was promoted twice and eventually appointed director.
In this role, he and his team award grants, which provide aid for the workforce service industry. In essence, his office has become the one-stop shop on campus where advisors assist students on a variety of issues, including employment aid, wage progression, training, education options and asset-building avenues.
Allen currently oversees five grants that provide federal and local financial aid to students pursuing a professional-technical degree at Highline.
This degree aims to support low-income students receiving federal food assistance and Washington state unemployment who are working toward pursuing early childhood education studies or employment progression.
Allen has a clear passion for his work and how he can help others.
"My current role and position allow me to empower those who are pretty much just like me," he says. "First-generation, low-income, or laid off from work."
Allen, who earned a master's in counseling and psychology from Argosy University in Seattle in 2014, says that he has been able to forge a special bond with his students on an intimate level.
"Supporting first-generation students comes natural to me," he says. "I am the students we serve. I come from a low-income background. I know what it is to be on food stamps, what it is to not know where your next meal is going to come from."
He urges his staff to get involved in programs in the community and recently started a food pantry for hungry college students on campus. He also received a Working Student Success Networking grant, which provides resources for the Highline Support Center to teach members throughout the Seattle area about savings plans, budgeting, credit scores, the loan process and financial resources.
Allen says that promoting diversity remains a central part of his work in encouraging others to achieve their dreams.
Allen tells those who stop by his office: "Being resilient, having faith, truly using networks — who you know to get your foot in the door for employment — some folks have it ironed out. But for those who don't, I'm here to share my story and help them along the way."
This story also appears in the June 15, 2017 print edition of Diverse.