WASHINGTON — Arguing that the K-12 education model of the 20th century is outdated, Chicago Mayor Rahm Emanuel said Tuesday he believes it's time to expand the public school system into a pre-kindergarten to college model.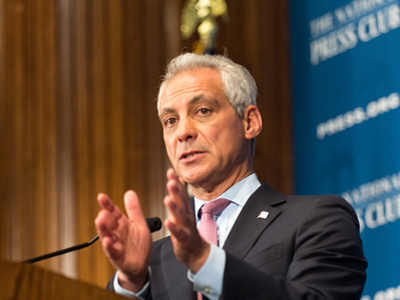 "We have to restructure our educational system to meet the demands that the 21st century is going to require of our kids in the same way that the high school education of the 20th century met the demands of the 20th century at the time," the second-term Chicago mayor said.
Emanuel made his remarks Tuesday at the National Press Club in defense of Chicago's newly adopted requirement for public high school seniors in Chicago to submit proof of a post-secondary plan in order to graduate — a plan that Emanuel introduced earlier this year. The proof can include a college acceptance letter, acceptance into a trades pre-apprenticeship or apprenticeship, a military enlistment letter, or a job offer or proof of employment, among other things.
"We live in a period where you earn what you learn," Emanuel said, alluding to statistics that show higher degrees of education generally correspond with higher incomes.
"And the question in front of me as mayor is: What are we doing to better prepare our students for that time?" Emanuel said.
The father of three said that while well-off individuals such as himself and his wife, Amy, can provide their children with college counselors and tutors in order to get them into college, that it would be unconscionable for him not to direct the resources of Chicago's public school system toward the same objective for its students, whom he said are overwhelmingly children of color who live in poverty and often are the first in their families to attend college.
Arguing that no responsible parent would leave their children's plans for life after high school to chance, Emanuel said: "We do not leave it to chance with our children and, as mayor, as principals, we don't leave it chance, not when we have the support in place. Not when you're the first in your family to make it to college. … Not when the economy of tomorrow requires an education today."
He added, "It would be morally reprehensible to do that."
Emanuel said the new graduation requirement is just one of several requirements— such as 40 hours of community service or four credits in science — already in place, and that requiring students to have a plan for life after college is "not a stretch" from those other graduation requirements.
"We already got 65 percent of our kids getting there," he said of CPS graduates with postsecondary plans. "I cannot in good conscious as a mayor allow the other 35 percent to not have a plan that the economy is going to require of them.
He said the other 35 percent are "most likely to need a plan" and will be "more likely to execute a plan if they have one."
Chicago is believed to be the first city in the U.S. to require its public high school graduates to submit proof of a postsecondary plan to graduate.
Emanuel — a former pre-school teacher — touted the success Chicago has made during his tenure to expand full-day kindergarten to all, as well as achieving various record high levels in college readiness indicators and college-going rates.
For instance, Emanuel, who first got elected mayor in 2011, noted Chicago's record high ACT scores, and how the school system's high school graduation rates have steadily increased. A CPS press release says the graduation rate for the class of 2016 was 73.5 percent — more than 16 percentage points since 2011.
He also touted CPS's large offerings of International Baccalaureate, AP and dual credit or dual enrollment programs that enable students to graduate from high school with college credit or, in some instance, a no-cost associate's degree. He said 42 percent of CPS students graduate from high school with college credit and the goal is to raise that number to 50 percent by the 2018-2019 school year.
The mayor mentioned specific high schools — such as Fenger, Chicago Bulls College Prep, Crane Medical Preparatory High School and Sarah E. Goode STEM academy — that all had college acceptance rates of 90 to 100 percent.
"Everything I'm telling you, all the cynics, all the naysayers, all the doubters would have said, 'Not those kids, not from that background, not from that socioeconomic class," Emanuel said.
He touted the city's STAR Scholarship program that provides free community college to any CPS graduate — including undocumented students, or Dreams — with a B-average, and a STAR Plus program that enables those who maintain a B-average in community college to attend any university in Chicago at a discount of 25 to 45 percent.
"I do not believe parents should pay, take a second job or second mortgage to give their kids a shot at the American dream," Emanuel said.
"We may be the first school district in the United States to embark upon a post high school education model but — mark my words — we're not gonna be the last."
Emanuel's new graduation requirement has drawn mixed reviews from policy experts.
Dr. Julie Ajinkya, vice president of applied research at the Institute for Higher Education Policy, said while the new requirement represents an "admirable vision," that the requirement could "very quickly become a mere box-to-check, not based in extensive research and evidence that points to resources and supports that promote postsecondary access and completion for low-income students."
"Such strategies must be accompanied with sufficient resources to help counselors, teachers, and administrators aid each student in meeting this requirement," Ajinkya said.
Emanuel — asked if he would invest in more counselors to help execute the new requirement — mentioned that it would take a "combination" of both more counselors and partnerships with nonprofits — such as One Million Degrees — to have all students have a postsecondary plan.
"It's not like we tell you senior year to meet this requirement," Emanuel said. "We're supporting this all the way through."
Jamaal Abdul-Alim can be reached at jabdul-alim@diverseeducation.com. You can also follow him on Twitter @dcwriter360.