SAN FRANCISCO — Several thousand educators from nearly 265 community colleges throughout the nation are meeting this week to strategize over how best to support and enhance student success work at their respective institutions.
Achieving the Dream — a national network of over 200 community collegaes committed to student success reform — is pushing attendees at its annual conference to adopt seven principles of a student-centered model for institutional improvement. Those principles include:
Leadership & Vision
Data & Technology
Equity
Teaching & Learning
Engagement & Communication
Strategy & Planning
Policies & Practices
Over the past several days, policymakers, thought leaders and practitioners have gathered to share best practices on how to help community college students complete college. At a time when nearly one-half of all students in the United States are enrolled in a community college, advocates say that college completion is more important now than ever before.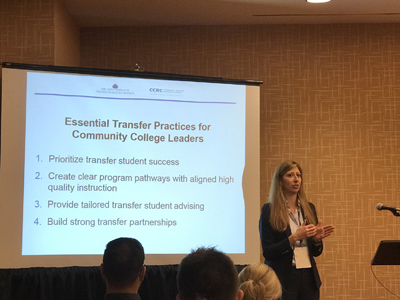 In California, for example, there are 2.1 million students enrolled in the state's 113 community colleges.
"The nature of the economy has changed permanently," said Dr. Eloy Oakley, chancellor of California Community Colleges. "We have invested $1 billion in student success."
The drive to improve student success rates has been encouraged by several philanthropic entities like the Kresge and the Lumina Foundation. In 2004, Lumina, along with the support from others, established Achieving the Dream, which is now operational in more than 35 states and the District of Columbia.
"We are helping more than 4 million community college students have a better chance of realizing greater economic opportunity and achieving their dreams," said Dr. Karen Stout, president and CEO of the organization headquartered in Silver Spring, Maryland.
At the opening ceremony of the conference, two community colleges — Miami Dade College and Pierce College — were presented with the Leah Meyer Austin Award for their work in improving student outcomes and reducing the achievement gap among its students.
During a plenary session, Dr. Christine McPhail, Emerita Professor of Higher Education and founder of the Community College Leadership Doctoral Program at Morgan State University, said that community colleges must embrace a pedagogical framework for cultural competence.
"And cultural competence is not a Cinco de Mayo event or a Black History Month event," said McPhail, who, as a leadership coach for Achieving the Dream, travels the nation to work with community colleges on how best to improve their retention effort. "Maybe we need to spend more time asking questions."
For Nhan Ta, 18, an international student from Vietnam who attends Pierce College, it was gratifying for him to see academicians fully invested in his future.
"I love that there are so many people here who really care about students," said Ta, who has plans to earn an associate degree in business and then transfer to a four-year college to pursue an international business major. "Being here and hearing about how all of the schools, including mine, is working to make their colleges better, really makes me feel special."
Jamal Eric Watson can be reached at jwatson1@diverseeducation.com. You can follow him on Twitter @jamalericwatson.