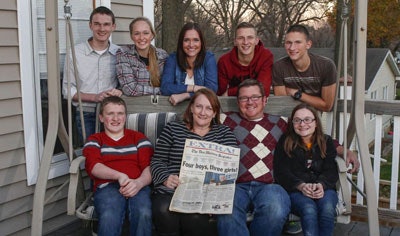 HANNIBAL, Mo. — Home is a lot quieter for Kenny and Bobbi McCaughey, now that four of their septuplets have gone away to college.
Joel, Nathan, Kelsey and Natalie McCaughey moved into their dorm rooms last week at Hannibal-LaGrange University in the northeast Missouri town of Hannibal, The Hannibal Courier-Post reported.
Two of the septuplets, Alexis and Kenneth, are staying close to home and attending Des Moines Area Community College. Brandon joined the military.
Hannibal-LaGrange University, a small Baptist-affiliated university, offered scholarships to all seven of the Iowa children soon after they were born on Nov. 19, 1997, ranging in weight from 2 pounds, 5 ounces to 3 pounds, 4 ounces. Bobbi McCaughey had taken a fertility drug. They are the world's first surviving septuplets.
All seven graduated in May from Carlisle High School.
Kenny McCaughey said he was thankful to the university because he never had to worry about how to send his large brood to college.
"My trust in the Lord was such that he has a plan for each one and it was a matter of me waiting and praying and hoping that God's individual plan would work out for each of their lives," McCaughey said at a news conference Thursday the university. "I'm a very grateful that we can have four of my kids go to the same college and we're very thankful to Hannibal-LaGrange for having them here."
The McCaughey children say they're eager to establish their own identities in Hannibal and make new friends.
"We all have our own career choices and so it's just nice to be out living those, and out on our own and not with eight siblings," Kelsey McCaughey said. In addition to the septuplets, the family has another daughter, Mikayla, 20.
Another of the kids, Joel McCaughey, said, "We're finally able to find our own way now, rather than have it paved for us."
Kenny McCaughey acknowledged the Iowa home will seem a lot emptier with four kids away at school.
"At first it's going to be a culture shock for us after 18 years of the kids in the same house with the noise and activity. Now it's just going to be weird with only two left," he said.