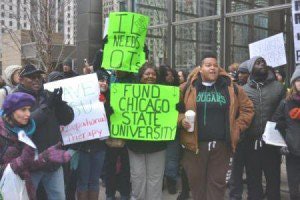 Chicago State University (CSU) students do not know what the future holds in store for them as the university faces continued months of a state budget impasse. The institution may have to close if it does not receive money from the state soon, since it is reliant on state appropriations for nearly one-third of its annual funding and does not have adequate financial reserves to see it through coming months.
None of Illinois' public universities has received state funding since July of last year.
In February, layoff notices went out to all 900 of the CSU's employees. University president Thomas Calhoun Jr. said in February that the school closing altogether would be a "worst-case" scenario but that the layoff notices indicate to faculty and staff that, when CSU reopens next fall, it may be a pared-down version of its current self.
The uncertainty surrounding the south Chicago institution's future can be demoralizing, CSU students said.
"We still have to stay focused on our studies, in spite of what's going on," said Heilema Gray, a CSU sophomore majoring in music education. "If it does close —and we're hoping that it doesn't —if you continue to have a great GPA, then you can transfer to a great school."
Students say that they have received confusing messages about what their next step would be if the school were to close. Some say that they heard that they will be given the option to transfer to Governors State University (GSU).
GSU is a public university located some 40 minutes south of CSU. Like CSU, it has been impacted by Illinois' budgetary issues and particularly so by the lack of funding for state Monetary Award Program (MAP) grants, which were supposed to have provided up to $4,702 per student in need-based tuition and fee assistance in 2015-16.
Illinois, due to the budget impasse, did not fund MAP grants this year for any of the 130,000 students at public and private colleges who were due to receive it. Gov. Bruce Rauner vetoed a bill as recently as February that would have provided $721 million in MAP grants and community college funding.
In response, GSU covered the cost of the grants this year and promised to do so next year, if the current budget situation continues, according to WGN -TV. Nevertheless, the situation has put a strain on the university. Standard and Poor's Ratings Service placed GSU, along with Eastern, Northeastern, Southern, and Western Illinois universities on "creditwatch negative" last Wednesday, due to the budget impasse.
"When you think about all the other state schools, they're going through the same thing," Gray said. "So why would you transfer there?"
In addition to GSU's uncertain financial situation, Gray pointed out that the university does not offer a bachelor's degree in music, meaning that, if she were no longer able to attend CSU, she would not be able to continue her studies at GSU regardless.
Despite the current confusion, Gray hopes to graduate from CSU. "I love Chicago State," she said. "I've created a lot of great friendships here. I've gotten used to the classes and the professors and everything. I don't want to transfer to another school. I want to graduate here."
Other students also spoke highly of their experience at CSU.
"Chicago State for me is like a home environment," said CSU sophomore Natasha Banks, adding, "Because it's a local institution, it's great for all of us, especially the students who live right across the street or close by."
Although it is not a historically Black university, CSU has long served a predominantly Black student population and a large proportion of students who are typically classified as "non-traditional," meaning that they did not arrive at CSU straight out of high school. About two-thirds of its students come from the Chicago metropolitan area.
"I just don't understand how they could make it seem like this school isn't worth saving, because that's basically the gist of how I feel —they feel like it's not worth saving," said Amari Francis, a CSU sophomore majoring in music education.
The lack of MAP grant funding is impacting students at CSU. Students said that the university has not made provisions to assist them.
"I still have a balance on my account. That's never happened to me before, and I don't know how I'm going to pay it," Francis said. The remainder left of her balance, she said, would normally be covered by MAP grants.
Lingering balances concern students for other reasons. "If the school closes, they're not going to give us our transcripts, unless we pay our balance," said Jaylen Yarbrough, a sophomore in music.
Student groups at CSU have called on the governor and state legislative assemblies to pass a budget that would fund public colleges and universities in the state. In late January, a dozens of students blocked the northbound entrance to the Dan Ryan Expressway, explaining that they shut down 95th Street to show how they feel about their university being shut down. Students and political leaders also held rallies in the state capital of Springfield.
Staff writer Catherine Morris can be reached at
cmorris@diverseeducation.com.