LONG BEACH., Calif—
Community Colleges have to be more proactive in tackling the financial, housing and food insecurities that their students face.
That was the message throughout this year's Achieving the Dream (ATD) conference, which brought together faculty, administrators and students to discuss some of the most pressing problems facing community college students across the nation.
ATD — now in its 15th year — is a nonprofit organization that champions evidence-based institutional improvement and focuses on student outcomes.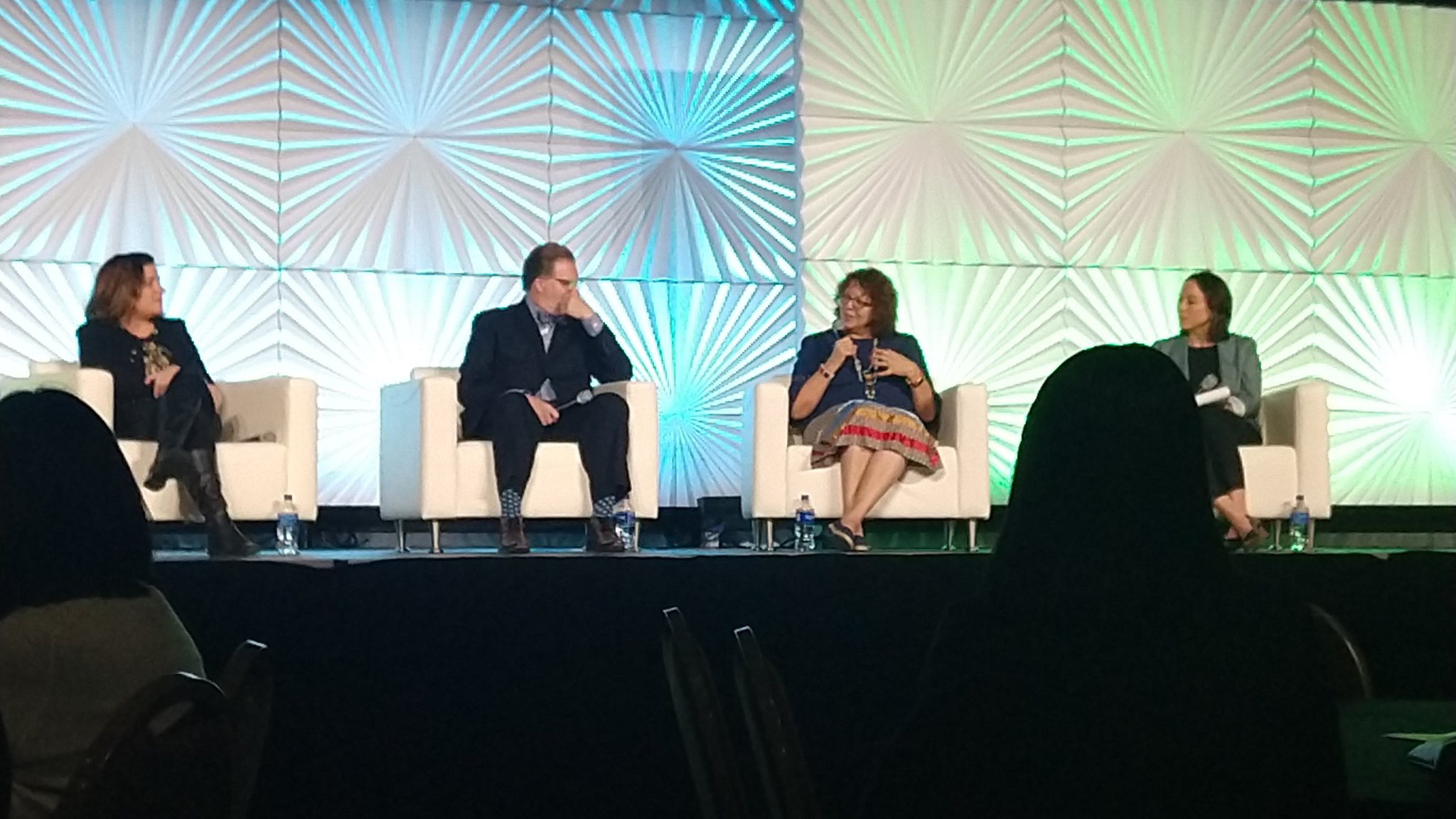 At a Thursday morning plenary session titled, "Crystallizing Success for Every Student: The Role of Colleges in Supporting Students' Basic Needs," panelists noted that community college students often underperform in the classroom because they are struggling to make ends meet.
Dr. Russell Lowery-Hart, president of Amarillo College in Texas, said that after he became president, he commissioned 20 student focus groups along with a survey to learn more about what was keeping his students from excelling in the classroom.
Childcare, healthcare, transportation, food insecurities and legal services topped the list of student concerns.
"I was changed because our students told us profoundly that their lives outside of the classroom was impacting their work in the classroom," said Lowery-Hart, who held administrative and teaching positions at his alma mater, West Texas A&M University, prior to becoming vice president of academic affairs and later president of Amarillo College in 2014.
"When you see the numbers — 59 percent housing insecure and 54 percent food insecure, you can't ignore what's happening outside of your college walls if you want to know what's happening inside your college walls," he added.
Dr. Sara Goldrick-Rab, a professor of Higher Ed Policy at Temple University and founder of Hope Center for College, Community, and Justice said that students themselves forced a national conversation about basic needs by sharing their own experiences throughout the nation.
"The housing insecurity can sometimes translate into homelessness," said Goldrick-Rab, who is an expert on these issues. She said that 12 to 14 percent of community college students were homeless in the past year.
"We still need national representative data and we don't have it," said Goldrick-Rab, urging community college leaders to engage do what Lowery-Hart did and survey their students.
"You cannot use FAFSA to determine if students' basic needs are being met," said Goldrick-Rab, who added that the Pell Grant has often left students struggling in the balance. "Please think beyond financial aid. If you do not help students connect to SNAP and food stamps, it is very unlikely they will find out about this information."
Goldrick-Rab said that some community colleges have found innovative ways to help meet the needs of students by offering food scholarships and housing vouchers.
Over the past few years, food and clothing pantries have become the norm on campuses throughout the nation. But that may not be enough.
When the Higher Education Act comes up for reauthorization, "make sure that students' basic needs are centered in that discussion," said Goldrick-Rab, who lauded California's work in addressing this issue and said that other states should follow its lead.
Dr. Cheryl Crazy Bull, president of the American Indian College Fund said that because a majority of tribal colleges are located in rural and economically depressed areas — a result of government policy and practice — the challenges that face students attending these institutions are greatly magnified.
"We have to rethink how we think about homelessness," said Crazy Bull, who added that even though tribal college students might share a kinship with family and as a result, live with them, they might in fact be in need of their own home and space.
Lowery-Hart said that students who struggle because of a lack of resources are too often stereotyped and unfairly labeled.
"Poverty is not about laziness, lack of work ethic or the need for a handout," he said. "Our students are working their tails and they still can't make it. We've got to be intentional about helping them manage bureaucracy and change the pathways for them and their families."
Jamal Watson can be reached at jwatson1@diverseeducation.com. You can follow him on Twitter @jamalericwatson
This article first appeared in Diverse: Issues In Higher Education.