Students at Northern Virginia Community College's Alexandria campus are learning to empower and encourage women to take leadership roles on and off campus through a program co-hosted by the American Association of University Women (AAUW).
The "Elect Her" program is in its fourth year. It began when the school's Jean Braden Center for Women was approached by AAUW, which offered to co-host annual sessions with NOVA-Alexandria as a part of a much larger program offered across the country. The sessions are held in February.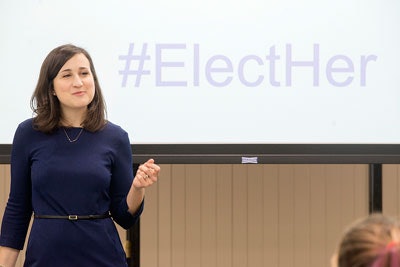 Patricia Gordon, co-founder and program adviser of NOVA-Alexandria's "Elect Her," says this program is typically offered on four-year campuses, making NOVA one of the first community colleges to put the program into action.
AAUW assisted NOVA-Alexandria with session trainings, grant approvals and all the other necessities required to operate the program.
"[AAUW] has an extensive support system [for the staff] to help bring everybody along," says Carolyn Lorente, professor of psychology.
Lorente says student liaisons are also included in the planning for the program along with faculty volunteers and board members.
Gordon says this program is not just about getting involved in politics, but it also aims to encourage women to take on various leadership roles at the community college level.
"Our students often will get involved in anything that involves leadership, learning more about themselves, developing more self-confidence, and developing more experience," Gordon says. "That's what's drawing them [to this program]."
Francescea Roaelison, a NOVA psychology major, says the program offered more than just inspiration but also confidence.
"The trainings [for me] were more focused on having a voice," she says, "and telling your story and inspiring more people, especially women, to be a part of something bigger than themselves."
Raoelison says she attended her first "Elect Her" session two years ago and since then has been involved in several other conferences linked to AAUW and other national organizations, which has encouraged her to take more action in her community.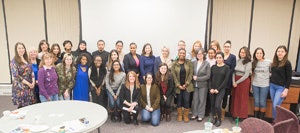 "I submitted a proposal to the Clinton Global Initiative University, which is everything about helping a country to fight poverty and climate change, but for me, it was more about fighting poverty," Raoelison says. "I was able to put everything that I've learned into [the proposal]."
Her proposal was chosen by the university out of 1,000 other students' world-wide.
"I'm just so grateful to be chosen," she says.
Gordon says the "Elect Her" program, which is hosted at the Alexandria campus, is offered to all NOVA students who wish to attend but has a 50-seat registration limit.
Bethlehem Getaneh, an "Elect Her" student liaison and biology major. says she was glad to see a program dedicated to women in a place where she says they are normally seen as inferior.
"I met so many inspiring women, and I want to be just like them one day and run for office," Getaneh says. "I got into leadership at the Alexandria campus and said, 'You know what? I'm just going to keep going no matter how many mistakes I make.'"
Getaneh says one of the reasons she returns to the program every year is that the program covers a range of topics and teaches what actions women can take to fulfill their goals.
To do that, Professor Lorente says, students "pick a topic that they care about and identify people that can help."
Lorente says program leaders ask: "What are the three actions items that you want to do? Three people that might help you, and then you learn how to do an elevator speech," a short speech that helps the women identify their most important points ortopics and ends with asking for someone's support.
One major issue that NOVA as a whole faces is the separation of campuses. Getaneh says that she believes the program would be stronger if all the campuses united in this goal to uplift women into positions of authority.
"We are the only [NOVA] campus that has a center for women, gender and social equity," Lorente says. "And after this event, we had so many people come up to us and say, 'We want one at our campus too.'"
The center, all operated by volunteers, does more than just host the annual "Elect Her" training sessions. They also encourage women to be a part of its mentoring program, "Women Helping Women," which has been functioning for the past 10 years.
Getaneh says programs like these allow students to connect with other women and push each other ahead, especially among the Alexandria campus's international students.
Lorente says she sees a highly diverse mixture of women in attendance at every session, including a range of ethnic and religious backgrounds and ages.
During this year's session, a male student also attended.
"We had a male-identifying person come, which is awesome," Lorente says. "He [said], 'I was afraid to come because I didn't know how you guys would accept me, but I want to know how to support my sisters.'"
Getaneh says several men on campus are encouraging women to get more involved in leadership roles on campus and many of them are running for campus office and organization positions.
"Everyone that signs up for ["Elect Her"] has to fill out an application form," Gordon says. "And we ask them certain questions about why they're interested, what their expectations are, whether they're planning to run for student government."
Gordon says student elections are held in the spring, and her office compares who ran, who won, and if any of the candidates attended the training session.
"Every single year," Gordon says, "the ones that did run, that did attend the program, won the election."
Gordon says one of the major obstacles women face when wanting to run for office is asking for support, money and votes.
"It's not comfortable," she says. "This program is to talk about that, and help them understand the whole process. We're planting seeds to inspire students."
The women involved in this program say there is lots of support within themselves to strive for positions of leadership despite some of the stereotypes about them.
"They're teaching us how to fish," Getaneh says. "They're teaching us to do things on our own. It's really awesome…we have the skills inside of us."
Lorente says the program leaders hope to continue reaching women through avenues like social media and have women addressing others with these tools.
"We're not just a room. We're a community," Lorente says. "We're better together…and we can overcome barriers."