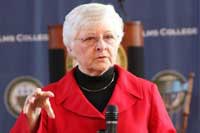 CHICOPEE, Mass. — The president of a small Catholic college in western Massachusetts plans to retire at the end of the upcoming academic year.
Sister Mary Reap has been president at Elms College in Chicopee since 2009.
She is credited with overseeing the funding and construction of a $13.5 million health sciences building and creating many new academic programs during her tenure. She helped develop agreements with several community colleges that allow graduates to continue studies affordably at Elms and shored up school finances.
The chairwoman of the school's board of trustees says Reap has left a lasting legacy.
The College of Our Lady of the Elms was founded in 1928 and currently has about 1,700 students.
The school will conduct a national search for a successor.