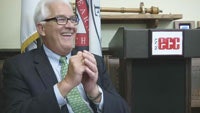 BUFFALO, N.Y. —Jack Quinn says this will be his last academic year as president of Erie Community College.
The 65-year-old former New York Congressman Quinn has been president of the two-year college, part of the State University of New York system, since 2008. He is paid $192,500.
Quinn says he'll go out on a high note when he retires following the 2017 commencement. The college is about to break ground on a $30 million building for its science, technology, engineering and math programming and will complete a nanotechnology wing next year.
A search committee will be formed to look for Quinn's successor.
Quinn represented Buffalo in Congress from 1993 through 2005.